Wings Espresso Exchange Networking Event
by Andrea Bradley
(Bromsgrove)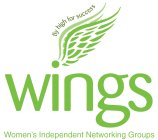 Why not book your place now for the next Wings Espresso Exchange event?! We are meeting at the Queen's Head Inn on Friday 28th May from 11a.m until 12:30p.m.


Wings is a vibrant, energetic and dynamic business networking group designed to suit the needs of today's businesswomen. Meetings are held during the day, to fit in around the hectic demands of work and home.
Our meetings have a relaxed atmosphere and at the same time are focused on providing the opportunity for women to promote their businesses, make valuable contacts and receive business support and advice.
Wings also hosts other events throughout the year including business exhibitions, social events and workshops. Take a look at our website for more details.
This event is free to attend and is the final Espresso Exchange before the launch of the first official Wings Meeting on the 11th of June.
If you would like further details or would like to reserve your place, please contact Andrea Bradley on 01527 870218 or email andrea@wings.uk.net.